Lumber Dealers Political Action Committee (LuDPAC)
---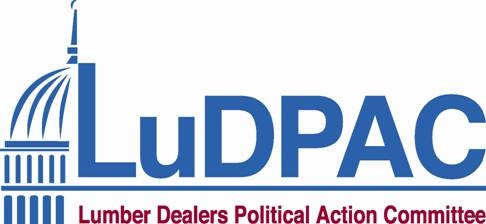 What is LuDPAC?
The mission of LuDPAC is to engage lumber and building material dealers in the political process and promote the building material industry's legislative agenda by electing industry-friendly, pro-business candidates to federal office. LuDPAC allows like-minded members to come together to elect candidates who will be their voice on Capitol Hill.
Click here to view the frequently asked questions document.
Why should I join LuDPAC?
Every day in Washington, DC, politicians make decisions that impact your business. From advancing the Innocent Sellers Fairness Act, to expanding small business' access to health insurance, to raising or lowering taxes – your perspective and involvement as a business owner can have a powerful impact on how your elected officials vote in Congress. LuDPAC provides an easy way for you to contribute personally to advance the building supply industry's legislative agenda.
Participating in LuDPAC is an investment in the success of your business and your industry!
Who decides candidate contributions?
The LuDPAC Board of Trustees is composed of volunteer NLBMDA leaders who are responsible for general supervision over the activities and funds of LuDPAC. One Trustee represents each of the five political regions of NLBMDA's membership, with the LuDPAC Chair, Vice Chair, and the Legislative Advocacy Committee Chair serving in at-large positions. In keeping with the LuDPAC mission of electing building material industry-friendly, pro-business candidates, candidates must demonstrate support for NLBMDA priority issues. The LuDPAC Board reviews requests from dealers and candidates and selects candidates who will receive endorsements and financial support. In the 2012 general election, 29 of 35 LuDPAC-endorsed candidates were elected, an 83% success rate.
How do I get involved?
Use the links below to donate to the LuDPAC. Please note that participation in LuDPAC is limited to members of NLBMDA or its federated state and regional associations. Questions? Contact Jonathan Paine, NLBMDA President & CEO, at [email protected].
Ways to Support LuDPAC